At E.P., everyone does what they do best.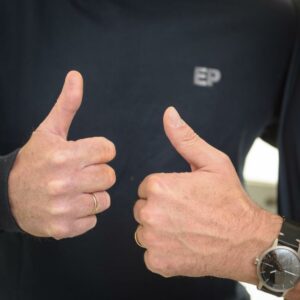 The steady and sustainable development of our company stands before of the growth in size. For more than 60 years, we have been active worldwide with a good 100 employees in the fields of electronics, automation and control cabinet construction.
In the field of electronics, we develop and manufacture devices and components for industrial use in demanding environments such as automotive testing, exhaust gas measurement for ocean-going vessels or for continuous use in public transport.
In the automation sector, our control cabinets and our software enable efficient and resource-saving production of, among other things, everyday items such as food, medicines and hygiene products, but also capital goods such as cars or building materials such as roofing membranes and insulating material. In all business areas, we work with our customers to test the latest technologies and thus offer our employees innovative and varied jobs.
For these innovative jobs we are continuously looking for new talents: Programmers, developers, electronic engineers, technicians and electricians.
Because we know that good training produces good specialists, we train our own junior staff: electronics technicians, electrical engineers, warehouse managers and commercial staff.
It is our claim to respond to the individual needs of our employees in the best possible way.
Personalities work for us. And that's exactly what we're looking for – regardless of gender, origin, religion or age. That's because we experience every day: Those who enjoy coming to work create great results.
Curious about us? Visit our careers page
At E.P., we get interdisciplinary insights into the fields of electronics and automation technology. What I like most is that you get support from your colleagues at all times. In doing so, I benefit from the many years of experience they have gained in the course of their working hours.

Elena
What I like about E.P. is that we have enough time to prepare for the exams. In the picture I am looking again at the circuit diagram I developed. With professional software we learn how to develop circuits and plan of circuits.

Thimo
The training at E.P. is extensive and versatile, you get to know many different fields of activity. Here I check the solder joints and components of a circuit board. I particularly like the fact that you get to know many nice colleagues during the course of your training.

Sebastian
In our software department, we get insights into Industry 4.0, learning how to plan professionally and develop application-specific solutions. What I like most is that you don't just stay with the simulation, but also get a lot of hardware-related insights.

Kevin
For our projects we get access to modern production processes. We learn how to model 3D enclosures that we can design and use specifically for our projects. We also get support also at the vocational school, here our company provides us with our own trainee shuttle.

Nico
During my training as an industrial clerk at E.P., you go through many different departments. Whether purchasing, sales, accounting or warehousing, I get career-oriented and exciting insights everywhere. What I like most is seeing how a company is basically structured and how the departments work together across the board.

Kai
Apply directly
We are continuously looking for reinforcement by competent specialists in the fields of industrial automation and industrial electronics.
Many of our employees have completed their training and/or studies with us. This path is also open to you!
If you appreciate mastering technical challenges together in a good team, you are the right person for us. We look forward to hearing from you!